What can you say at a time like this?
First, thank you – although this is simply not enough! You have changed the nation, and the world, and you've made it a better place for so many tens of thousands of kids (and more), both now and in the future. What a magnificent achievement! That is truly a life well lived.
Secondly, please know that your legacy will endure. Things won't fall apart. So many people now work in this field. We will continue the fight. You've also carved a path for Bravehearts and other NGOs, professionals, practitioners and researchers to ensure more attention is paid to CSA prevention, identification and response. This will continue because through your work and example you have built genuine capacity in this sector. You have been and will continue to be an inspiration and an example. We are all so lucky to have been inspired by you.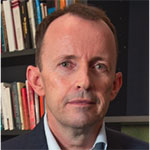 Lead Investigator, Australian Child Maltreatment Study 2019-23
Professor, School of Law, Queensland University of Technology
Adjunct Professor, Johns Hopkins University, Bloomberg School of Public Health
Member, Australian Centre for Health Law Research, QUT